Corridor EZ™ for Civil 3D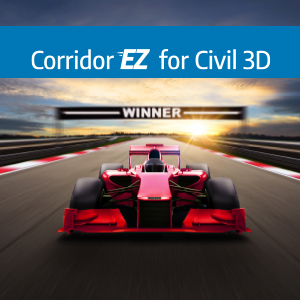 Corridor EZ for Civil 3D Speeds Up Corridor Design By Up To 20X
Corridor EZ is an AI driven plugin to Civil 3D that uses alignment naming to deduce the intended use of each alignment. After designer review, it automatically generates an editable connected road network. With single mouse clicks Corridor EZ will generate design surfaces, feature lines, profiles annotated with corporate styles.
With Corridor EZ, engineers and designers can optimize project timelines and budgets, reduce errors and revisions, and ultimately, deliver high-quality and sustainable roadway designs using your existing corporate standards.
Advanced features in Corridor EZ for Civil 3D include:
The powerful Vertical Grading Editor that provides an intuitive interface for editing profiles, balancing cut and fill on a road. Changes in the vertical design update the associated Civil 3D profile including curb returns.
Model Viewer – a dynamic rendered 3D viewer that automatically updates as designers modify the design.
An easy-to-use template editor describing road and grading sections. When you generate your corridor, Corridor EZ will automatically create the assemblies required for the Corridor.
Its own Tool Space that organizes all objects in the project allowing users to easily access, display and modify design components.
Seamless Integration with Civil 3D
Adding Corridor EZ to your toolkit isn't about reinventing the wheel. It's about enhancing it. As an add-on tool, it seamlessly integrates with Civil 3D, the software you already know and love. This seamless fusion means there's no need for a laborious transition or learning period. You can jump right in and start leveraging the enhanced capabilities.
Unparalleled Productivity Gains
Picture this: a productivity improvement of 10-20X on your next land development project. Sounds like a dream, right? With Corridor EZ, this dream becomes a tangible reality. Projects that once took months can now be executed in weeks, if not days.
Bridging the Skill Gap
The civil engineering and design industry is grappling with a challenge that seems almost insurmountable: the shortage of skilled resources ready for hire. As businesses scramble to find qualified candidates, Corridor EZ emerges as the silver bullet, leveling the playing field. With its designer-friendly functionalities, even teams with fewer seasoned professionals can tackle large-scale projects with ease and precision.
Are you struggling to find skilled people to work on your land development projects?
The industry shortage of experienced civil engineers and CAD technicians makes completing projects on time and on budget difficult. However, a new add-on tool called Corridor EZ for Civil 3D can help solve this challenge by boosting productivity for your team, even if they're new.
By boosting productivity ten to twenty times, Corridor EZ allows you to take on more land development projects without expanding headcount. One engineer or technician can do the work of ten, getting high-quality deliverables done faster. The software handles the grunt work so your team can focus on more value-added tasks.
Whether you're working on residential or commercial subdivisions, urban infill projects, streets or other linear infrastructure, Corridor EZ improves productivity. It works seamlessly within Civil 3D as an add-on tool, so you can keep using the CAD software you already have and are familiar with.
Corridor EZ for Civil 3D isn't just another software tool
It's the next evolutionary leap in civil design. Whether you're a newcomer to the industry or a veteran looking to amplify your team's efficiency, this is the solution the industry has been waiting for.