MicroCAD Training & Consulting provides BIM/VDC consulting to organizations including construction companies, architects, and engineers for project and coordination work. Our CAD and BIM professionals have extensive experience in 3D modeling as well as design work in all trades. We have handled projects that range from assisting in residential renovations to multistory commercial coordination management. MicroCAD works with architects and engineering designers who fully understand each industry as well as the timeline and work that goes into managing and coordinating BIM/VDC projects.
 
Services include 3D modeling, project coordination, construction drawings, as-builts, and fabrication drawings.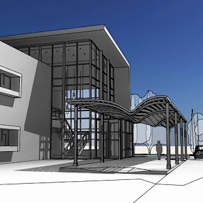 MicroCAD knows that it takes a great deal of time and expertise to manage large projects. This is especially true when collaborating with others, using multiple pieces of software, managing large amounts of data and keeping best practices to ensure the project is done in the most efficient and effective way possible. We also understand that your company's in-house resources may not allow you to fully manage the processes and software at certain times given the large demand or large scale of the projects. That is where our team of experts comes in! We offer consulting for Project Management for your CAD and BIM needs, and  an help you keep your project on track and running smoothly.
MicroCAD Training & Consulting has experienced production experts on staff that can work with your team to help you complete your projects. MicroCAD will work with you to produce highly accurate construction drawings, models and visualizations using the latest CAD and BIM technology.