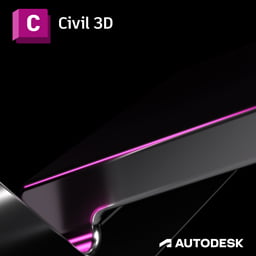 Civil 3D – Civil Infrastructure Design and Documentation Software
Civil 3D® civil engineering design software supports BIM (Building Information Modeling) with integrated features to improve drafting, design, and construction documentation.
Conduct grading design studies based on project constraints. Grading Optimization is available in Civil 3D only as part of the Architecture, Engineering & Construction Collection.
Automate time-consuming grading tasks.
Explore alternatives to achieve an optimal grading solution.
Return the selected grading proposal to Civil 3D for detailed design.
Civil 3D Highlighted Features
Collaboration for Civil 3D
Securely access Civil 3D files, data shortcuts, and xrefs from multiple locations and companies, all in a common data environment.
Coordinate workflows more efficiently across the various disciplines working on complex bridge design projects.
Streamline the flow of data between ArcGIS and Civil 3D. Access the latest data and keep features information up to date.
Use enhanced tools for more efficient pressure pipe network layout and design.
Use the Dynamo visual scripting environment to develop routines that automate repetitive design tasks and expedites workflows.
New transit and rail design features
Expanded toolkit for transit and rail design including spirals, dynamic alignments, profiles, and superelevation design.
Use Civil 3D with other Autodesk Software
MicroCAD Productivity Tools for Autodesk Civil 3D
MicroCAD Civil 3D Productivity Tools is a set of essential productivity plug-ins that will make your work in Civil 3D fast, easy and efficient. These tools will dramatically reduce the number of tedious tasks and help you focus on your engineering challenges.
Streamline your everyday tasks, Reduce the amount of tedious work, Do things that are not possible with out-of-the-box Civil 3D, Become more productive.