Integrated CAD, CAM, CAE, and PCB with Fusion 360
Unify design, engineering, electronics, and manufacturing into a complete product development solution.
Autodesk Fusion 360 for Product Design is the ultimate solution for product development organizations seeking to enhance their innovation and reduce development costs, while bringing their ideas to life faster.
This software empowers your organization to focus on the core functions and aesthetics of your product, with specialized tools that maximize modeling efficiency and editing capabilities. With Autodesk Fusion 360 for Product Design, you'll have the competitive edge to lead the market, innovate and manufacture your products sooner.
In Fusion 360 you will find:
Fusion 360 extensions
Extensions allow you to unlock advanced design and manufacturing technologies in Fusion 360. Gain access to capabilities such as complex machining strategies, generative design, and additive manufacturing workflows.
Coupled with the Product Design extension to model even the most intricate designs with ease. The Simulation extension takes care of advanced simulation studies, while the Manage extension enables hassle-free data management across various departments and geographies.
Simulation Extension
Get unlimited access to cloud solves. Use structural, thermal, explicit, and injection molding simulations.
Generative Design Extension
Explore unlimited generative designs. Optimize for specific materials and manufacturing techniques.
Machining Extension
Advanced manufacturing tools, include 3 to 5-axis strategies, toolpath optimization, and process automation.
Nesting & Fabrication Extension
Create optimized and associative multi-sheet layouts for sheet metal and non-sheet metal parts automation.
Product Design Extension
Easily create complex geometry to enhance the performance and aesthetics of your products.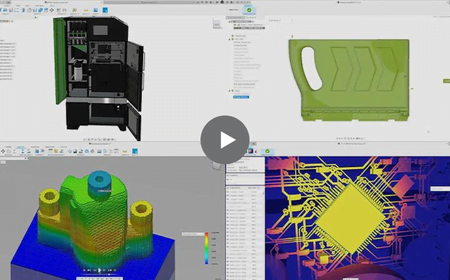 Manage Extension
Execute change orders, release management, automated part numbering, and bill of materials management.
Additive Build Extension
Manufacture metal parts using powder bed fusion to reduce material wastage and cost.
Fusion 360 Extensions Overview
Watch the video to learn more about Fusion 360 extensions and how they can help you
Why MicroCAD Training and Consulting?
MicroCAD is a team formed by Industry experts from the AEC, Manufacturing, and Business worlds. With over 30 years of experience, consistently growing and innovating, we work together with our partners and proudly hold titles such as Autodesk Gold Partner and Authorized Training Center.
MicroCAD has clients located throughout the US, headquartered in Boston, MA and operating out of several satellite offices.
2022 All rights reserved MicroCAD Training and Consulting