What you can do with Autodesk Inventor
Share feedback with built-in collaboration tools
Work with anyone, anywhere no matter what CAD software they use.
Collect feedback from stakeholders wherever they are using cloud-based design review.

Follow the product development lifecycle with one data model.
Satisfy demands for custom products and automate processes
Design efficiently using specialized industry toolsets.
Enable design automation powered by iLogic.
Access Inventor API to create add-ins.
Access

 

Forge Design Automation API

 

for running job processes in the cloud.
Increase your sales opportunities while participating in BIM projects.
Use data exchanges for a highly collaborative workflow when creating custom fabrications around Revit data.
Include necessary authoring metadata and export your designs to a BIM-ready Revit format.
Inventor highlighted features
Mechanical design and 3D CAD software
Use Inventor®️ 3D CAD modeling software for product and mechanical design. Learn about the Inventor®️ modeling, design, simulation, and rendering features.
Assembly Section View Enhancements
Check out the improvements made to Section Views for assemblies.
Thread Direction Support in Content Center
With this release, it is now possible to map the thread direction (left or right) to the part template parameters.
Learn about enhancements in parameters for this release.
Learn about the new Tube & Pipe enhancements.
Check out the improvements made to Derive Assembly, Derive Part, Make Part, and Simplify.
Collaboration: Shared Views
Check out the enhancements to shared views.
Learn about the newly added Edge Symbol feature.
Learn about the new Finish feature added in this release of Inventor.
Fusion 360 Interoperability Enhancements
Check out the enhancements made in the Inventor to Fusion 360 tools.
Translators Enhancement for 2024
Learn about new export formats and updates to existing import/export formats.
Use Inventor with other Autodesk Software
Inventor + AutoCAD
Connect 2D and 3D workflows—use the right tool for every mechanical design job. (video: 1:39 min.)
Inventor + Fusion
Explore a greater number of high-performing design alternatives—many that you'd never think of on your own. (video: 2:15 min.)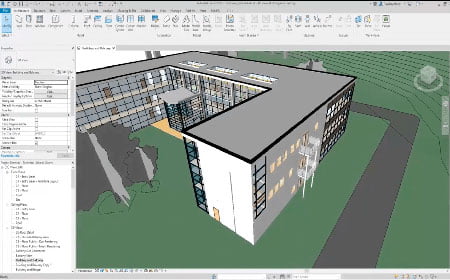 Inventor + Revit
Increase your sales opportunities while participating in BIM projects. (video: 2:10 min.)