Software Autodesk Inventor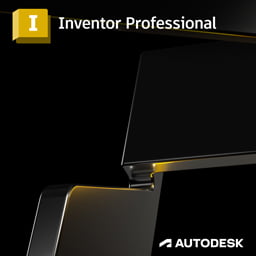 A complete set of Design an Engineering tools with Autodesk Inventor 2023
Inventor®️ 2023 is here and better than ever
Autodesk®️  Inventor®️ 2023 has arrived—and it's packed with new features and functionality to help you build better products, faster.
Subscribe today and see how Inventor can help you collaborate more effectively, design more efficiently, and build better products.
What's New in Inventor®️ 2023?
Thanks to your input, ideas, and feedback, the latest release of Autodesk®️  Inventor®️ has enhancements, updates, and new functionality to help you:
– Get more done in less time with improved performance for large and complex designs
– Better prepare designs for manufacturing with documentation enhancements
– Design more efficiently with parts and assembly modeling updates
And with seamless interoperability with Revit®️ and Fusion 360, you can share data securely and start new workflows with just one click.
INVENTOR HIGHLIGHTED FEATURES
Mechanical design and 3D CAD software
Use Inventor®️ 3D CAD modeling software for product and mechanical design. Learn about the Inventor®️ modeling, design, simulation, and rendering features.
Parametric Modeling: Focus on design as you create and edit your 3D models with an intuitive user interface.
Assembly Modeling:
See how your design will go together and perform at the assembly level.
Drawing Creation: Quickly create clear, accurate, detailed drawings for manufacturing.
Model-Based Definition:
Include manufacturing information in your 3D model for downstream applications.
Content Center:
Choose your standard components from a comprehensive customizable library.
Shape Generator: Create and evaluate high-performing design options in minutes. 
BIM Interoperability: Convert configurable 3D CAD models into BIM objects. 
Shared View Collaboration: Collaborate on your models or designs online. Anyone can review and comment on shared views in the Autodesk viewer.
Work With Non-native Data: Maintain an associative link to non-native CAD data. 
Printed Circuit Board Interoperability:
Integrate your electronics and mechanical designs into a single, complete definition of your product.
Data Management:
Use easy push/pull controls to move, rotate, resize, or scale features from imported geometries.
Automated Frame Design: Quickly design and test structural frames.
Design Configurations: Enable rapid configurations powered by iLogic.
Sheet Metal: Design and prepare complex sheet metal products for manufacturing.
Simulation And Visualization
Dynamic Simulation:
Apply forces to evaluate the motion, speed, and acceleration of your design.
Stress Analysis:Run quick checks on parts or perform in-depth analysis of the entire product at any stage.
Exploted Views and Animations:
Use exploded views and animations of complex assemblies in product documentation, manuals, and assembly instructions.
USE INVENTOR WITH OTHER AUTODESK SOFTWARE
Inventor + AutoCAD
Connect 2D and 3D workflows—use the right tool for every mechanical design job. (video: 1:39 min.)
Inventor + Fusion
Explore a greater number of high-performing design alternatives—many that you'd never think of on your own. (video: 2:15 min.)
Inventor + Revit
Increase your sales opportunities while participating in BIM projects. (video: 2:10 min.)